They say that the pen is mightier than the sword, but in all reality, the pen is mightier than a lot of things when it comes to lasting exposure for your business.

If you are looking for a relatively cheap way to remind hundreds, or even thousands of people about your brand on a daily basis, then personalised printed pens may just be the answer.

Pens are Cost Effective
Pens are one of the cheapest forms of advertising. You may not think that if you only look at the per item cost, but if you delve deeper into the effectiveness of the pen for getting your message out there, then pens are cheaper than almost every other form of lasting advertising.

Yes, it's true that the cost of producing a single business card is far cheaper than the cost of producing a single pen. But think about what happens to business cards, they end up crushed in someone's pocket or at the bottom of their handbag, they get filed into a card file, never to be seen again, or you take a picture of them, filing the digital version into online storage and chucking out the original card. No one simply throws out a pen!

Pens are Useful
Let's face it, everyone needs a pen. How else are you going to take notes from that phone call, write down those amazing ideas that come to you at 3am, or scribble your grocery list on the back of the power bill envelope?

And what if every time your contacts pick up a pen to do any of those things, they see the name of your business. They are constantly reminded of your brand and how to contact you. It keeps your business in the front of their mind every time they reach for a pen, which is likely to be a few times a day.

They might even lend your pen to a colleague or friend. Then that person will also be exposed to your brand. Pens do not belong to a niche market, they are used by people from every industry, every day.

Pens are Long Lasting
If you write with a standard pen, it will take you over three months of writing A4 sheets, to run out of ink. These days it is very rare to need to write that amount every day, so a pen actually lasts a really long time. That is a very long opportunity to influence people, for a minimal cost.

A pen is a daily exposure to your brand and your business. Plus, if the user feels the need to get in touch with your business, your contact details are right there in their hand. No need to hunt through that business card file, or to trawl Google for information.

---

Pens from Cloudbase Print and Promotions
Cloudbase have created branded pens for employment companies, real estate agents, bookstores and hundreds of other businesses in between.

Here is the process you go through:
Assess if pens are the right return for your investment based on what you want to achieve for your business
Discuss what is the best use of space in the print window – how to fit all the right information into a relatively small space
Work out the most cost-effective quantity to order – sometimes ordering a few more in the beginning will work out cheaper long term
The order is set up, you approve your proof, and then they go into production
If you are placing a standard order, you will have your pens in your hot little hands within 10 working days from approval of the proof
Depending on your needs, Cloudbase can provide a number of different pen options:
Basic Plastic Body Pen: a pen that you can afford to give away to everyone
Medium Quality Plastic Pen: slightly more expensive, so you are generally a bit more selective on who you give this to.
Metal Body Pen: A great way to signify thanks when business is completed
High-end Metal Body Pen: A fantastic corporate gift which comes in its own gift box
Environmentally Friendly: manufactured from product such as bamboo, recycled cardboard or rice husk fibre.
If you are interested in ordering your own branded pens from Cloudbase, check them out here.

Pens are a cost-effective, basic selling tool for exposing your brand and getting your message across.

Pens are suitable for use in almost all industries because they are used by every business, every day.
Feature Product – Printed Bamboo Pen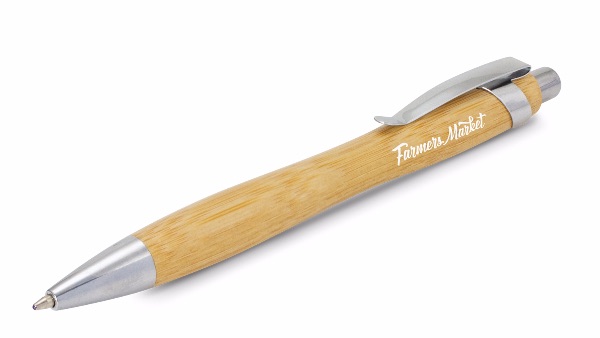 This retractable natural colour bamboo ball pen has a stylish contoured grip and shiny chrome accents. It has a black large volume refill with 1800 metres of German manufactured ink and a tungsten carbide ball for improved writing quality.
The barrel of the pen can be branded with either print (as in this offer), or laser engraving to a natural etch. To increase the impact of giving as a gift, the pen can be presented in an optional velvet sleeve for an additional $0.30 each.
Normal price for 500 bamboo pens branded with a one colour print in one position, is $1.50 each + GST.
This month's newsletter special offer: $1.28 each + GST. Offer expires 6/3/2020.
Find out more, including featured products and a chance to win.