The alcohol content varies in hand sanitisers — and sometimes it isn't enough to be effective! Many users are unaware they are using hand sanitiser that is ineffective, particularly in preventing transmission of coronavirus.
Hand sanitiser has been rapidly selling out in shops for weeks, but variations in alcohol levels mean some do not provide adequate protection. There are thousands of products that are marketed as hand sanitiser, but not all are equal.
The least effective are sanitisers that contain no alcohol. These are often chosen by customers who have suffered a reaction to alcohol-based products. Even a nice-smelling spray with 30 percent alcohol content can be virtually useless at killing viruses.
Experts say the gold standard is a sanitiser with 60–80 percent alcohol — the level required to kill the virus if it is on your hands.
"The high-alcohol-based sanitisers are the most effective at killing not only the bacteria but the particular types of virus," Professor McLachlan, professor of infectious diseases at the Australian National University.
"They do so by disrupting their outer membranes or envelope, and that won't happen unless there's at least 60 percent alcohol content."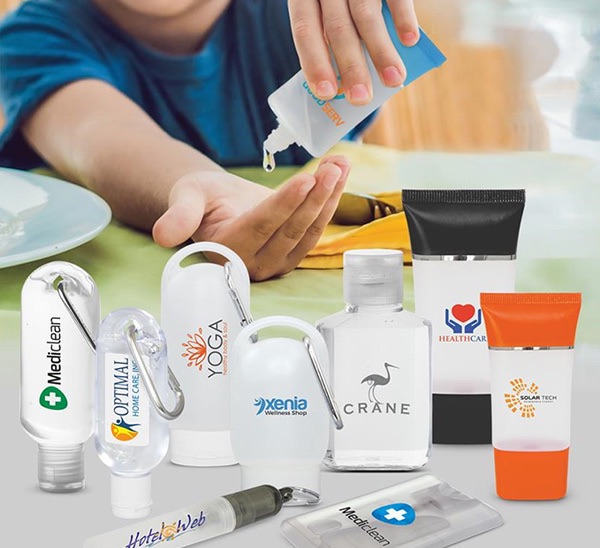 All of the above hand sanitisers meet or exceed this specification.
Branding minimums and specifications vary — visit our website for these details or email your logo file and quantity requirements for costs on the item you require.
Typical examples of costs:
8ml hand pump stick including one colour print one position. 250 units $1.85+GST, 500 units $1.47+GST.
30ml tube with flip cap & carabiner including one colour print one position. 100 units $3.50+GST, 250 units $2.06+GST.
55ml tube with flip cap & carabiner including one colour print one position. 100 units $3.80+GST, 250 units $2.40+GST.
Find out more, including disposable facemasks and a chance to win.