Hopefully, the announcement of the move to Level 2 has brought the prospect of positive progress for your business?

With the announcement of moving to Level 2 last week, it seemed like the seriousness lifted, clients were more relaxed in their outlook on business and things looked like they were almost "back to normal".
A New Normal
But then having to visit a client in Glenfield Mall on day one of Level 2 brought back with a shock that 'normal' is a new normal far removed from how we previously experienced retail shopping!

Stepping off the travellator a hundred-metre queue of 'social distancing' customers waited their turn to enter The Warehouse. Almost all stores had staff positioned at the door to regulate customers' entry and record their contact tracing details prior to entering. Bottles of hand sanitiser featured everywhere for use before and after contact trace sign-in, using eftpos terminals, etc. In addition, I was struck with the real challenge of maintaining social distancing passing people queuing and moving in and out of stores.
Masks & Sanitisers
So it is glaringly apparent that the new normal, whilst there is any possibility of coronavirus still being present in New Zealand, will include extensive use of masks and hand sanitisers in retail, in business, and in almost all interaction with people outside of your family group. Yes, the government has held off regulating over the use of masks. Citing them only being of use when worn correctly, and 'as the science isn't yet there' but with disposable masks being less than the cost of a cup of coffee, most prudent people are opting to use such ready protection.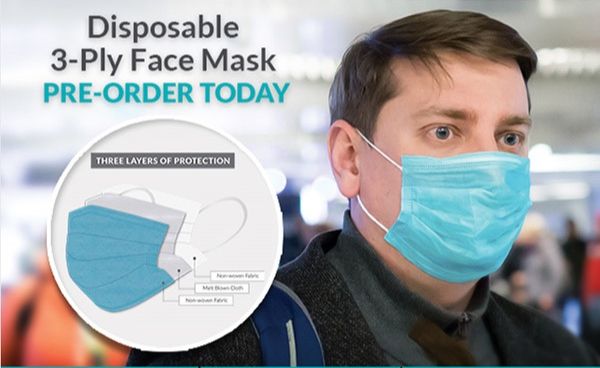 Three-ply disposable masks are in stock and are being supplied to a wide range of customers from real estate agents, property managers, and hair salons through to tradespeople.

9 Styles Of Hand Sanitiser for branding with your logo and contact details are featured on our website. Rarely is there an item so widely sought after and used, that provides such a wide-ranging opportunity for brand exposure! Demand for these continues to exceed supply, so stocks continue to be presold prior to landing – orders placed now currently will be supplied in June and July, depending on the individual product. 

In addition, bulk orders of larger 500ml plus size bottles for the likes of tradespeople, are being supplied, on four day turnaround, for use without branding.
Find out more, including umbrellas and a chance to win.